As soon as summer comes to Ukraine, citizen and guests of Kiev on their weekends as well as weekdays hurry to sunbathe, make barbeques, and thrash about in the warm water.
Despite the fact that Kiev isn't a resort city from the point of view of water entertainments, here are more than enough beaches and places where one can rest and bathe. Along the city goes the main arteria of the country, the river Dnieper, and within the city and its suburbs there are not less than a dozen of lakes suitable for bathing as well as other basins.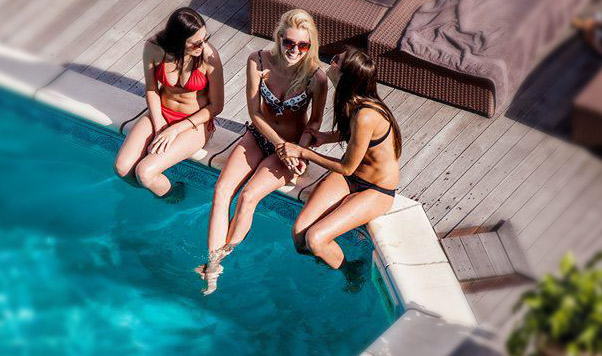 Well, if you have decided to bathe, suntan, and dating on the beach with charming Kiev girls or taste vegetables and grilled meat, ride a catamaran or a scooter you can find it in any city district. Moreover, everybody will find suitable conditions – here are free beach clubs with a minimal level of comfort for unpretentious beachgoers as well as luxurious paid ones, for those who are more demanding to comfort and service.
1. Olmeca Plage is an entertainment complex in Hydropark. It's one of the most popular beaches in Kiev and a pioneer among similar VIP public places. Here is a big pool, lounges with soft Italian matrasses, beach umbrellas and free Turkish towels, toilets, a shower and always clean sand.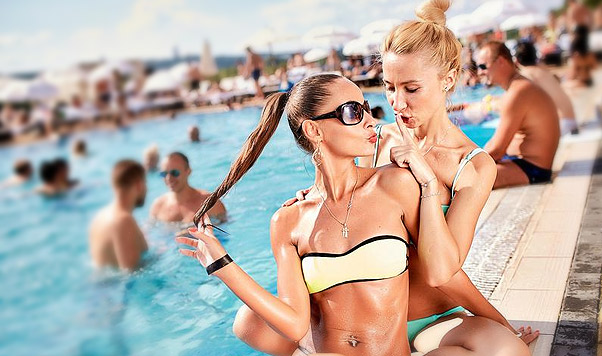 On the territory of Olmeca Place there are four volleyball playgrounds where professional competitions take place as well as usual amateur matches. You should book playgrounds beforehand here. Here you can also play ping-pong, and leave your children on a special playground. In Olmeca there's a bar with an impressive cocktail card and a restaurant where you can taste dishes of European, Japanese, and Georgian cuisine.
2. Bora-Bora Beach Club is another place for beach and club rest located not far from Hydropark. The place is famous for its beach parties, as well its own pool with big beds around it called 'Bungalow'. Entrance to the territory of Bora-Bora Beach Club is free, but you'll have to pay for equipment rent. Daily rent of a lounge costs here 100 hryvnas any day, use of the pool costs 100 hryvnas as well.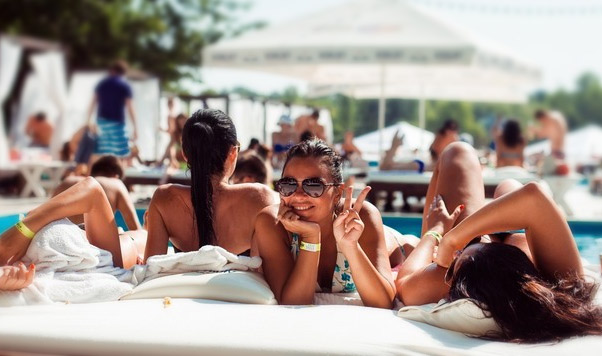 The bungalow near the pool for four people costs 500 hryvnas a day on Monday and Thursday and 700 hryvnas on Friday and Sunday. Towels are included. Beach umbrellas, shower and toilets are free here.
3. In the depth of Trukhanov island there is a beach complex with the same name that attracts an attention to it with two pools, a waterslide and a big clean beach.
Entrance to the territory of the Trukhanov complex costs 150 hryvnas. This sum includes a rent of lounges, beach umbrellas, a specially equipped charcoal grill (you take your own firewood), summerhouses, bathing in a pool, watersliding with an exit to the second pool complex, a table tennis game and a beach volleyball. In the complex's premises there are clean cloakrooms, toilets and showers.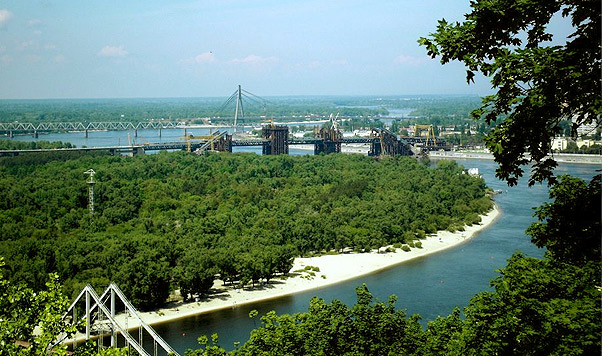 Also, here one can play tennis or football, here are two fields. A summer café 'Coffee bar near the pool' is conveniently located around a big pool and they will always offer you tasty food and refreshing drinks.
4. The Beach Club Way Finder (Mayachok). The complex is situated on the territory of Zhukovskiy island, to the south of Kiev. Entrance to the territory of the beach on weekdays costs 50 hryvnas, on holidays it's 100 hryvnas. Entrance is free for children under 14.
An entrance ticket includes: rent of a lounge, matrass, beach umbrella, shower, toilet, a children's pool, services of a children's animator, trampolines for children and grown-ups, as well as table tennis, beach football, volleyball, Frisbee and badminton games. For admirers of calmer entertainments here are chess and a real French game of petanque. On the territory of the beach there is a bar and a restaurant with a beach menu and free summerhouses. Waiters will take your order for you to the beach. Also, those who want to rest from the sun can use hammocks in the shadow of trees.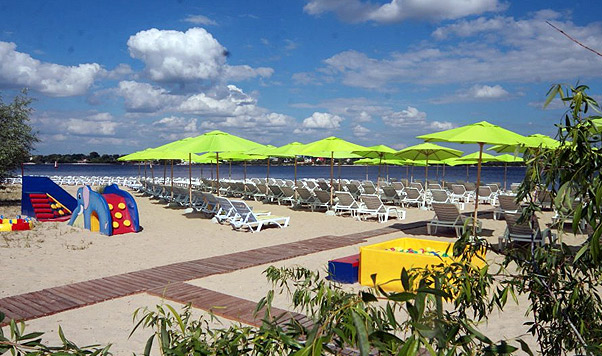 Among additional services there are: a paintball game, a rent of a scooter, master-classes for grilling given by a local chef. Even if you don't manage to grill meat well, you'll still get a portion of a barbeque, a vegetable salad and grilled vegetables.